Why Choose EZ Biolink over Linktree for Instagram?
Created on 10 January, 2023 | 520 views | 3 minutes read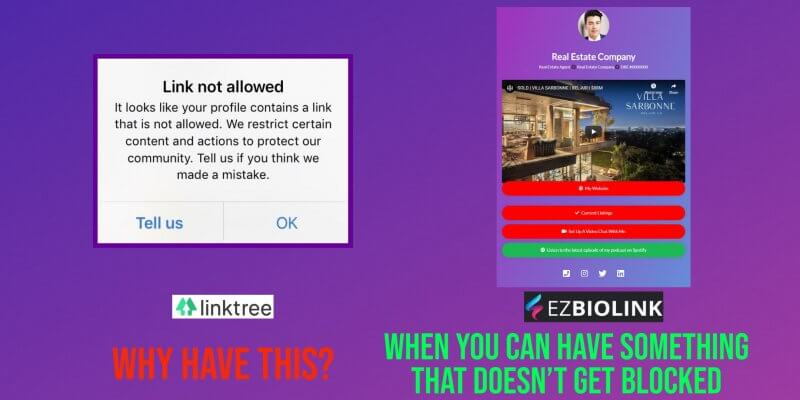 This article will highlight the main reasons why you should consider using EZBiolink over Linktree
EZ Biolink has always been committed to providing our clients with the best service possible, which is why we know how frustrating it can be when your link is being blocked on Instagram. The spam filter that filters out bad links is not configurable by users and doesn't limit the number of blocked links. This means that any accounts with more than a certain number of links will have their entire account shut down or deleted after a certain number of blocks.
On top of these disabling restrictions, there are also reports coming in that Instagram has been blocking Linktree's linking service and its partner programs as well. This is mainly due to a variety of factors, but the main reason is due to these services allowing users to mass-link other accounts. This has been a huge problem with Instagram over the past year, so it's not surprising that Linktree and Linktree partners are being targeted.
Increased amount of links: There are a few reasons why link spamming has increased recently, but one of the biggest reasons seems to be due to the fact that people have realized that they can use auto-linking software (such as the parent company, Linktree's technology) in order to rapidly build up an Instagram following. Since Linktree does not allow you to bypass Instagram's spam filter, it has put the company and its partners at risk.
Linktree's involvement: A large part of the issue is due to Linktree itself. The fact that Linktree makes linking so easy has made it attractive for spammers, and as a result, this has put Linktree under pressure from Instagram's spam filter and may eventually cause it to be banned altogether. But what is even more devastating is when users misuse Linktree in order to promote their own accounts. This is because they will often get their friends or family members to open an account with that link attached a post that they want them to see.
"But what if my friend wants to see something?" It is not against Instagram's terms of service to have someone comment on your post or like it. However, you cannot use Linktree for this purpose because it will be blocked. This is a common trick that spammers use, and now that Linktree is being blocked more often, this strategy isn't working as well as before.
EZ Biolink: What can I do about it?
The best way to prevent your links from being blocked is by using a different link provider that does not break Instagram's terms of service. EZ Biolink has a strong understanding of how social media works, and we understand exactly what is going on with Linktree. We have never had an issue with our Instagram accounts being shut down or deleted because of spam filtering and never intend to. If you would like to also learn about how to avoid being blocked on Facebook, check out our article about how not to get blocked on Facebook.
As the leading link building provider, we are always looking for ways to make our service better for both clients and users. In our quest to provide polished linking services, we have decided to offer one of the most important features that Linktree doesn't offer: an automatic spam filter that removes spam links from the link database without having their Instagram account shut down or be deleted. This will allow more accounts to be added without risking Instagram's automatic system shutting them down.
We have also decided to take advantage of our extensive experience in link building software and offer custom linking for Instagram. Just like Linktree, we will give you a list of the number of links that should be added during the process. This is very important because an unskilled professional can accidentally open thousands of spam links and damage your account or website. We will also export your link profile into a static HTML file so that you can use it again later.
EZ Biolink is not linked to Google for their analytics, so your information is not shared, not sold to any 3rd party. EZ Biolink is also a professional service with no free plan. That on its own filters out all the spam accounts that automated software can generate on a free plan. You can be assured that your links, your Instagram account will not be blocked. After all, what is the point of using a free service that is going to harm your account? Stop harming your account growth and switch today. It only takes 5 minutes!

Updated on 4 December, 2023